The sun is shining, it's finally spring out there, and this makes us very much think about the power of nature. Not only does it provide a great workout and playground, but it also helps us connect with loved ones and boosts our mood. It's like a triple shot of happiness!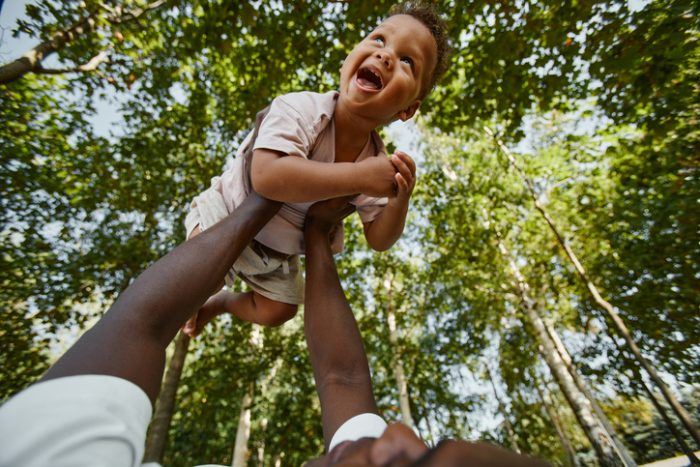 Even when the weather isn't perfect, and the kids are feeling a bit worn out, just getting outside and exploring can have a huge impact. It's an opportunity for adventure, discovery, and connection that you just can't get from staying indoors.
Studies have shown that spending time in nature is not only good for our happiness, but it also encourages us to be more altruistic and care for the environment. And when we cultivate a love for nature in children, we're setting them up to be future custodians of the planet.
In a classroom in a Mexican city, nearly 300 children between the ages of 9 and 12 responded to a questionnaire that measured their link to nature, eco-friendly behaviours and happiness.
The researchers found that children who felt connected to nature — feeling pleasure when seeing wildflowers and animals and hearing sounds of nature — engaged in altruism, or actions that helped other people. These children actively cared for the environment by recycling, reusing objects and saving water. They were also more likely to say they believed in equality among sexes, races and socioeconomic conditions. Finally, these children scored high on a happiness scale, too.
« They are future consumers of products, entrepreneurs, decision-makers, workers, and depending on the environmental education received, their connection with nature, environmental awareness and environmental values are the future of the environment, too, » said Dr. Laura Barrera-Hernández, author of the study and professor at the Instituto Tecnológico de Sonora in Mexico.
It's not just kids who benefit from spending time in nature, either. Research has shown that it can help adults reduce negative thoughts and improve their mental and physical health. In fact, doctors in Scotland are even starting to prescribe « nature walks » as a treatment for high blood pressure, anxiety, and depression.
« Many studies are showing that even passive interactions with nature give back to us by healing us of problems with stress, anxiety and helping us to focus better, » said Dr. Tina Cade, a professor of horticulture at Texas State University, who wasn't involved in the research.
« Other studies have shown that active participation in gardens can help children eat better, get more exercise, have better attitudes toward school and interpersonal relationships, » Cade said.
Getting outside and connecting with nature is like a tonic for the soul. By deliberately bringing our children into nature, we're giving them a chance to connect with something bigger than themselves and perceive the power and value of their environment.
So next time you're feeling a bit down, or the kids are a bit grumpy, why not take a walk in the woods? Who knows what kind of adventure and discovery you'll find along the way?
Outdoor activities with kids – some inspiration
If you're looking for inspiration on what fun activity to do with your kids (or by yourself, we wouldn't judge….), and see what developmental benefits come with it, have a look at this list by Forest Holidays.
Source: inspired by Forest Holidays and CNN, « More than ever, we need nature ».