It's never too early to teach children the importance of keeping our planet clean and learning how to reduce, reuse, and recycle. With a little guidance and supervision, toddlers and preschoolers can complete these easy, fun projects.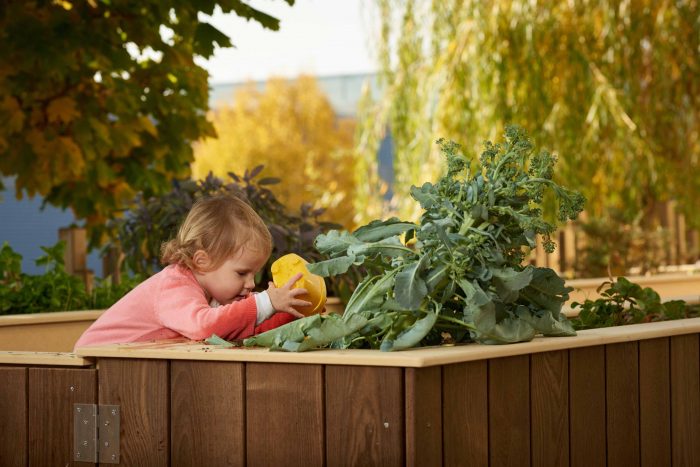 Reusable Tote Bags
Many people are turning to reusable bags — made of cotton, canvas, polyester, or recycled polypropylene— as an alternative to paper or plastic. Choose a machine-washable bag and supplies for decorating, whether it's acrylic paint, fabric markers, paint pens, rhinestones, stickers, animal or earth-themed rubbers stamps, or stencils.  We're already using cotton bags at Little Green House for your child's clothes. Your little one will be proud to transport toys and snacks with her tote!
Recycled Arts and Crafts
Here are two ways to turn your trash into Earth Day projects:
1. Have your child decorate cardboard boxes, shoeboxes, or plastic storage boxes. You can use them to organize junk mail, old magazines, fabric, ribbons, and extra buttons.
2. Transform an empty plastic milk jug into a bird feeder by cutting a hole in the side of the jug and filling it with birdseed before hanging on a tree. Have your kid decorate with markers or paint.
Fruit or vegetable garden
Planting a garden can be fun for any toddler or preschooler, especially the ones who like to get dirty. With your child, choose seeds of favourite fruits and vegetables that will grow well in your area. Children will get good exercise; they'll also learn how to nurture the environment. Gardening also teaches responsibility and the importance of caring for the planet.
Earth Day Scavenger Hunt
Make a list of items for your toddler or preschooler to collect outdoors, like pinecones, leaves, flowers, rocks, and sticks. When all the items on the list have been gathered, talk about what role they have and the impact they make on the surrounding environment. For example, sticks are gathered by birds to make nests, and flowers have nectar that bees carry back to their hives to make honey.
Trash clean-up
Kids are constantly picking up objects (even when we don't want them to), so why not encourage them to clean up the earth? Grab a pair of gloves and some trash bags, and head to your favourite local park or beach. Let your child pick up paper and plastic trash, making sure he doesn't pick up anything dangerous like broken glass or prickly bottle caps. You can handle the serious stuff like cigarettes and beer bottles. Take time to explain why it is important to keep the earth clean.
Sorting and separating recyclables
Many homes have separate containers for recyclable materials, and our cities even provide recycling bins for bottles and cans, paper products, and yard waste. If you already have bins in place, involve your preschooler in sorting the recyclables. Then take your little one to a local supermarket or a recycling centre with machines for depositing bottles and cans.