Things are looking brighter as the pandemic starts to recede. But despite the hardships of the past few years, experts say they've also brought some rewards, especially for families.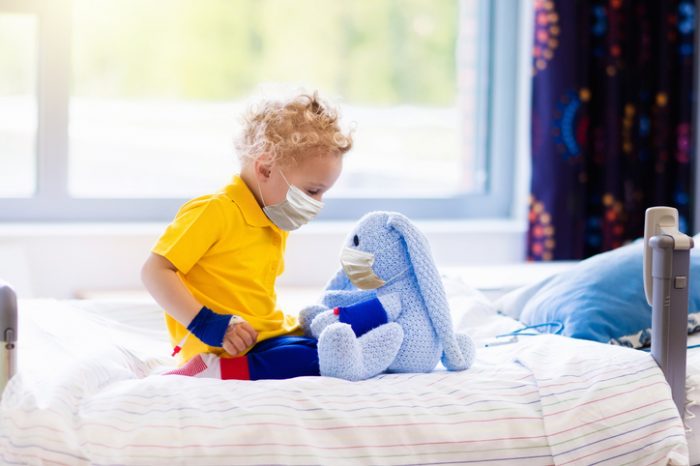 In March 2020, life as we knew it changed dramatically. The COVID-19 pandemic swept the country, shuttering schools and businesses alike, and forcing us into the confines of our homes for many months. Now, thanks to widely available vaccines and declining case numbers, there's an end to the pandemic in sight. That's led many of us to reflect on the impact of these challenging years.
For a long time, the news headlines were dominated by mask initiatives, vaccine mandates, and social distancing. Is it possible that some of these disruptions to our lives actually had a silver lining for our children? Two prominent physicians say the answer is yes—that despite the heartache, positive things have emerged from the pandemic. Keep reading for things parents can feel good about today.
More Family Time
The greatest gift we all received when the world went on hold was the gift of time. Parents skipped business trips and worked from home; kids temporarily stopped going to ballet lessons or hanging out at their friends' houses. Suddenly there we all were, alone together.
« The pandemic has shaken up routines, » says Kimberly Sirl, PhD, a pediatric psychologist at St. Louis Children's Hospital, in St. Louis, Missouri. « Many parents have become more mindful about their values and the needs of their families, and more creative about meeting these needs. »
That was evident from the earliest days of the crisis. According to a 2020 U.S. Census survey, parents went on fewer trips with their kids after the pandemic started, but they shared more dinners with them and read to them more often than they had before. In a 2021 poll conducted by Lurie Children's Hospital of Chicago, 78 percent of parents said they had been showing their children more affection during the pandemic, while 87 percent said they were spending more quality time with their kids.
New Family Traditions
Over the past few years, many families chose to focus on the positive rather than what was suddenly lacking in their lives, with some instituting new family traditions. Baking bread was a popular activity, as were family movie nights and doing TikTok dance videos. Evening walks became a soothing exercise ritual for the suddenly homebound.
Those rituals helped us thrive, even when we were scared or bored. « When every day seems more or less the same, small special events can add a lot to family life, » says Tara Neumayr, M.D., an assistant professor of paediatrics and critical care at Washington University.
Greater Self-Sufficiency and Better Problem Solving
Kids were home day after day (after day) during the pandemic. Yes, their TV viewing increased, but in many households they also adapted by filling in the gaps in their previously busy schedules, indulging in creative and imaginative play that made the most of existing resources. In an increasingly fast-paced world, learning to slow down and look for ideas and solutions is a big win. « The ability to occupy one's unstructured time productively is associated with positive character development, problem-solving, and protection against mood disorders such as anxiety and depression, » Dr. Neumayr points out.
Better Technology Skills
Computer and tablet use soared over the past few years, as kids attended online classes and connected with friends through chat groups and Zoom calls. Little ones learned what it meant to be muted or have a bad connection, and gained a surprising facility with keyboard, mouse, and modem. There are downsides to too much online engagement, but this increase in digital living also gave kids access to the wider world and increased their facility with tech. Parents were better able to have conversations with children about how to handle interacting with others online.
Broader Educational Offerings
COVID-19 singlehandedly changed the way many families approached their children's education, as homeschooling became more popular and schools switched to online classes. Sure, it temporarily ended teacher-led field trips and extended snow days, but parents became more involved with their kids' studies. Plus, the majority of schools across the country now have a plan in case virtual learning needs to occur in the future. That has wider implications for families, helping to create an acceptable alternative for future quarantines or illnesses.
Improved Sibling Bonds
Squabbles over toys, personal space, and the last cookie diminished in many households as kids (by necessity) got closer. With no one else to play with, they had to turn to one another for fun and found that it wasn't so bad. « After being isolated from their friends and activities with kids their own age for months, many kids with siblings learned to rely on each other as playmates and allies, even despite age differences, » says Dr. Neumayr. Games like charades, Jenga, and Pictionary engaged all ages.
A Greater Sense of Community (and Perspective)
During the darkest days of the pandemic, acts of kindness and altruism stood out. We checked in on elderly relatives, visited home-bound neighbours with groceries, and held drive-by birthday parties. We sewed masks for one another and made plastic face shields for teachers and frontline workers. The idea of empathy as a marker of character became more important than ever. Such heartfelt gestures didn't go unnoticed by our children, who will carry these memories with them as they grow.
« Kids have absorbed a tangible lesson about how connected we all are, about individual responsibility for shared goals, and the reality that reaching an important goal may be worth some measure of pain, » says Dr. Neumayr. When everyone is affected by the same crisis, it's hard to overlook others' suffering.
A Practical Understanding of Hygiene
Have you ever had more discussions about germs with your kids? More of them now know what germs look like, why they're important, and how to combat them. Children's TV shows talked about COVID-19 transmission, and companies even came out with dolls that emphasized healthy behaviour.
As a result of living through the pandemic, « even the youngest kids can now understand that washing your hands, covering your cough, and staying home when you're sick can help prevent spreading illnesses, » Dr. Neumayr says. « That knowledge is vital for this pandemic, but will also be important for keeping them and the people around them healthy in the midst of normal cold and flu seasons. »
Better Stress-Management Skills
For a few years, we confronted the spectre of illness at an alarming pace, and our kids were exposed to news that seemed like a nightmare. And while parents were rightly concerned about how this would affect their children, it also presented an opportunity to talk with them about « big things » and to provide them with tools for handling the feelings they experienced. These stress-management techniques are likely to make kids stronger and more resilient once the pandemic subsides.
Source: we have found this article by Christin Perry at parents.com. We have adapted some of the content.